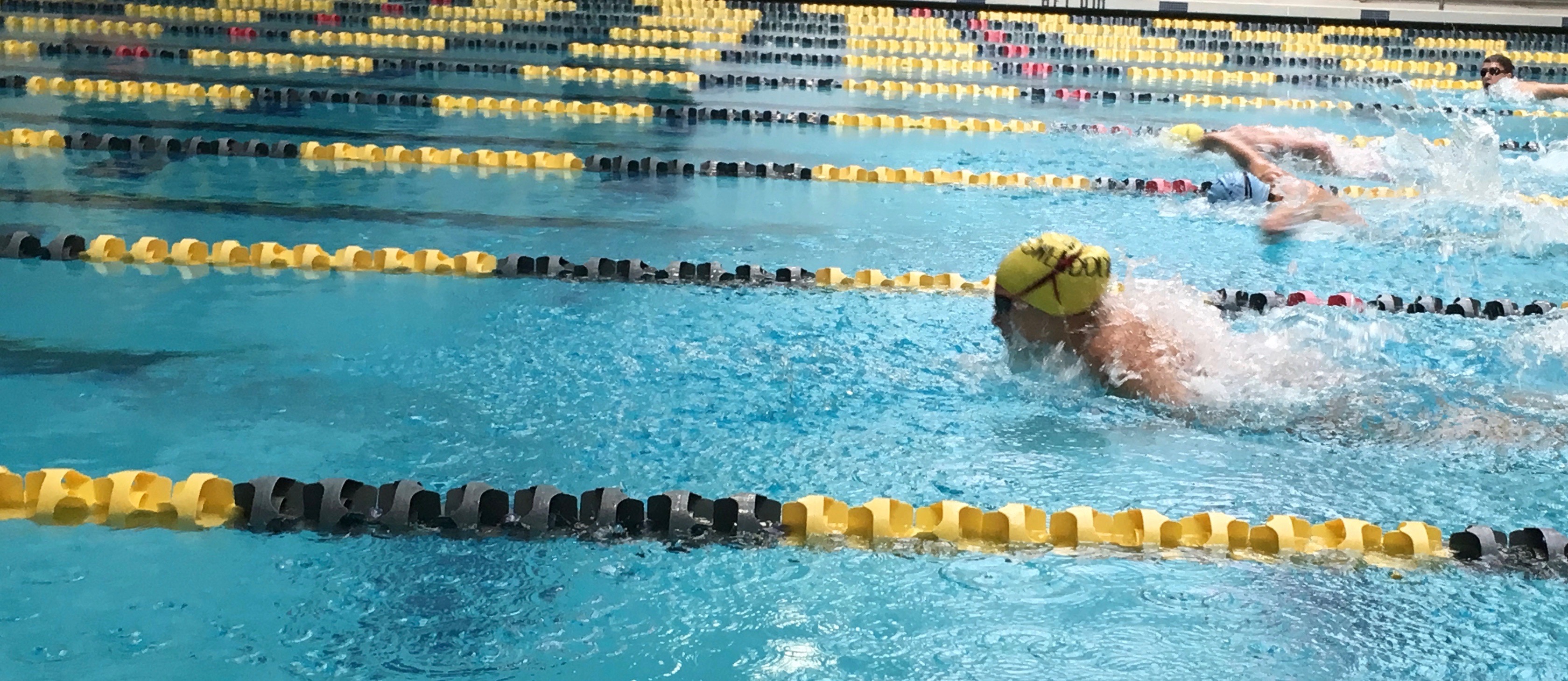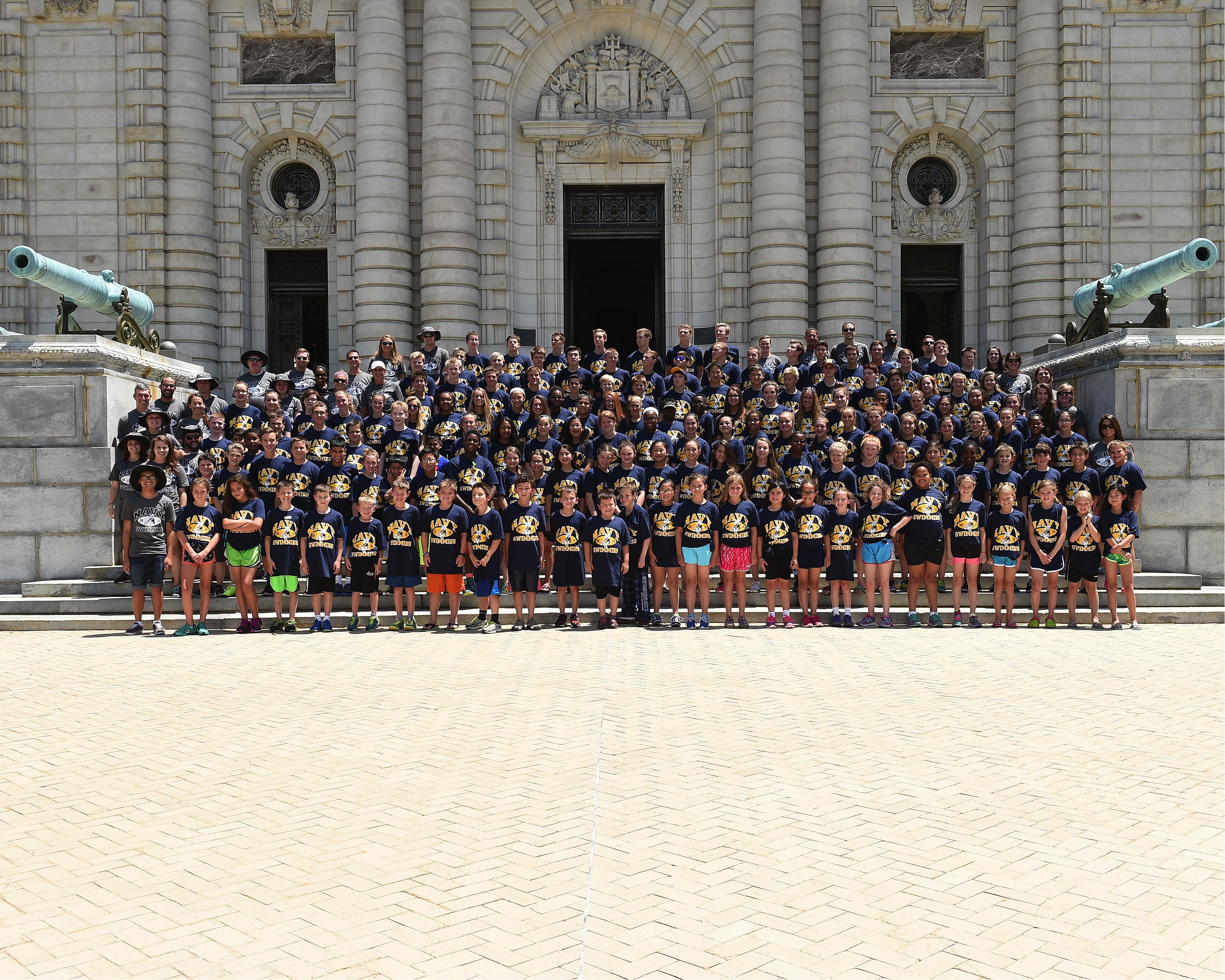 Learn how to improve as a competitive swimmer within the very unique environment at the US Naval Academy.
Our most important goal is to provide you the very best in individual instruction and evaluation, camper experience, and safety/supervision. The purpose of our camp is to offer you with a unique and awesome environment to learn as well as develop your competitive strokes including all related starts, turns and finishes. Navy Swimming Camp is a stroke-intensive camp. You will receive individual attention. Additional training sessions are offered for those desiring to improve conditioning while at camp. Video analysis, dry land activities designed to improve individual fitness levels, performance, training, goal-setting and leadership presentations, are all part of a full schedule in 2023.
Campers will learn and train in an amazing environment at the Naval Academy. The two primary aquatic facilities to be used are Lejeune Hall; a 25 meter by 50 meter facility with separate diving tank, and Scott Natatorium in MacDonough Hall.
0600-0715 Optional training session
0730 Breakfast
0810 Day & Extended Day camper arrival
0815 Classroom presentation
0900 Out of water training
0950 Introduction to pool session
1000 Pool Session
1115 Stroke evaluations
1200 lunch
1300 group meeting time
1400 Pool Session II (stations)
1615 end pool session
1630 group activities
1800 dinner
1900 evening presentation
2015 group activity
2100 wind down time in rooms
2200 lights out
*Actual schedule is published at time of registration
Extended Day and Commuter campers will arrive at the same time (0815) and place (Lejeune Hall pool deck.) DAY campers will stay with us through the second pool session and will be ready for pick- up at 1615. EXTENDED DAY campers will stay with us through dinner and the evening presentation. EXTENDED DAY campers will be ready for pick-up at 2015/2030.
IMPORTANT NOTE: This schedule is different for the first and last days of camp. On the first day, both DAY and EXTENDED DAY campers should check in between1300-1400 (1:00-2:00pm) and will be ready for pickup at 2015 on day one. On the last day, day & extended day campers will arrive at 0845 and will be ready for pick up at 1200.
DAY & EXTENDED DAY CAMPERS
Resident camps are open to swimmers who are nine years of age and older. Extended Day and Commuter camps areopen to all swimmers eight years of age and older. For the Stroke Camp, swimmers of most levels and abilities are welcome. If your camper has yet to participate for at least one season on a team and/or has limited competitive experience, then give us a call or email before registering your camper. NCAA rules allow graduated High School Seniors to attend camp.
Residential swimmers will stay in Bancroft Hall, the dormitory of the U.S. Naval Academy. Swimmers are requested to bring their own sheets,(regular twin), blankets and pillow for a single bed. Swimmers will be roomed two, three or four per room. Accommodations are excellent. Mature, experienced male and female chaperones provide supervision in the hall and provide fun evening recreational programs.
Breakfast, lunch and dinner are provided to residential swimmers in King Hall – the US Naval Academy dining hall. Snack and juice machines are located in Bancroft Hall. Please note that lunch is not provided on first and last day of camp. Lunch will be provided for commuter campers on all days minus the first and last day. Lunch and dinner will be provided for all extended day campers minus first and last day. Dinner will be provided to all commuter and extended day campers on day one.